To achieve a shiny metallic effect on ordinary paper packaging or labels, not only by stamping techniques, but also by printing and choosing metallized substrates. In this article, YF Package has selected several efficient and relevant techniques to share with our readers.
Cold stamping technology
Hot stamping is the most direct way to achieve a metallized paper labels. For label printers, using hot stamping technology requires paying a lot of money for the production of stamping plates. With inline cold foil stamping, there is no need to make a foil plate, and the entire foil stamping process is completed at the same time as printing.
Cold foil stamping is usually carried out by flexographic printing, and the job can be completed by using the existing units of the flexographic press. One unit is used to provide the adhesive, unlike conventional printing, this unit plate transfer is adhesive; another unit is used to put away the cold foil. Re-printing is possible on the cold foil pattern, and the ink is overprinted in the same way as on a substrate such as aluminized paper. Once the cold foil printing is completed, it can be switched back to normal printing mode by simply cleaning the flexographic press and replacing the printing plate, and the entire setup and cleaning recovery process takes only about a day and a half.
Many people do not realize that cold foil can be used to create distinctive metallic effects. The wide variety of cold foils, which can be glossy, matte and other effects, combined with the fact that cold foil printing is similar to printing, allows for a gradual change from light to dark tones, and even small patterns can perform exceptionally well. At the same time, cold foil stamping is also particularly suitable for those operations that require printing on the back side of the substrate.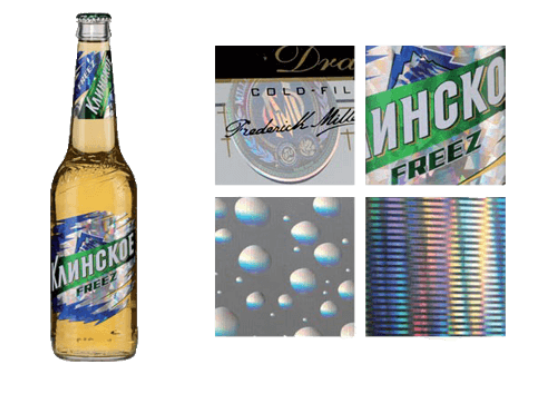 Metallic inks for digital printing
If you don't use real metallic inks for printing, there are still plenty of ways to simulate metallic effects. Special silver electronic inks for digital presses can produce a silver effect when printed on plain paper. It's not a real metal effect, but it saves a lot of money. The effect of silver e-ink is similar to UV flexo silver ink, giving a metallic look on the label and can be used as a spot or base color in a range of label applications.
Quick preview of the printed effect
Metallic effects are currently more often achieved with traditional printing methods, such as printing ink on a metallic coated substrate and masking the areas that do not need the metallic effect with white ink. This traditional method was effective but very time consuming to see the printed effect. Now, new software applications have reduced this process from hours (or days) in the past to minutes. For example, designers can see the printed metal effect by using a plug-in like Color-Logic in Photoshop to simply pull out a selection, apply the effect, and see the printed metal effect.
For brand owners looking to make their products stand out on crowded shelves, either way to help labels achieve a metallic shine effect is acceptable; the key is cost and the simplicity of the process. We have wet strength and non wet strength metallized paper for self adhesive label for sale, welcome your enquiry.