There is one thing in common between nationally recognized companies, small downtown businesses and online stores: they all need product labels. When creating a product for a business, it's not just the product itself that helps generate sales. The branding and presentation of the product will also ultimately help increase repeat business. By using labels, businesses have the opportunity to create unique product displays that are 100% customized and affordable. Wet strength metal label Manufacturer shares some ideas for you regarding beer bottle labels.
Beer Label Styles
Beer bottles have more labels than one might think. Do you want it to wrap from front to back or just the front? Does it have a neck so it can be identified in the package? Here are some of the many label styles you can choose from when designing the perfect beer bottle label.
Semi-Packaged Labels
Half-wrapped beer labels provide the perfect space for your logo and legally required information. By covering only a portion of the bottle, you can also let your product shine. Let consumers see the rich colors of your home brew and save yourself the ink of printing the entire circumference.
Beer neck labels
If you like the all-inclusive style but want to add a touch of beer neck labels, then you don't have to settle for anything less. For a minimalist aesthetic, use beer neck labels alone. If you have a great and attractive beer bottle, or if minimalism is more your style, a beer neck label will put the emphasis on what matters most.
Triangular beer bottle labels
Like the sharpness and balance of square corners, triangles are vibrant and energetic. They are usually more masculine in nature and can sometimes be used to indicate superiority.
If your beer is at its best, or has different flavors throughout the drinking experience, try using triangle labels to connect with your audience.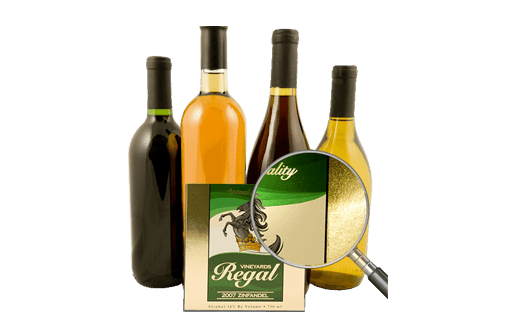 Beer Label Materials
If you're labeling water, beer or white wine, chances are your bottles will be in the refrigerator or freezer. You want your label to be able to withstand whatever conditions it is exposed to. We usually recommend using weatherproof label materials.
Weatherproof White Glossy Labels
This glossy finish is great for displaying vibrant colors and can help your designs look crisp and sharp. It is extremely water resistant and will not tear easily due to its durable material. If you have an inkjet printer at home, this option will make your bottles glow.
Waterproof Wet Reinforced Label
For an elegant or decorative look, pair them with metallic silver. Designed for laser printers, these waterproof labels are designed to withstand water and extreme temperatures. Made with a permanent adhesive, your labels won't stay in the cooler.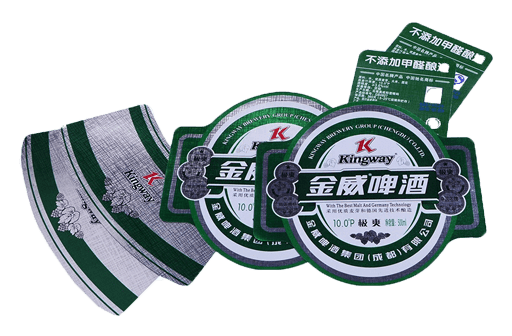 Your label will be the drinker's first introduction to your product. Make a good first impression. yf packaging offers you beer bottle label materials. In addition to wet strength metallized paper, we also have holographic metallized paper for gift wrapping or other label displays. Feel free to contact us for specific usage details.