Metallized Paper is gathering popularity in the packaging industry as a promising alternative to plastic. The momentum for manufacturing metallized paper has gathered recently due to its better performance characteristics and higher environmental friendliness index than plastic. Metallized paper is used in product labeling and packaging for the food, beverage and consumer packaged goods industries.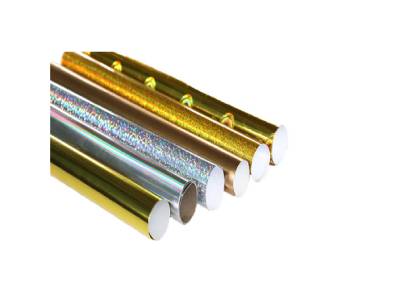 Metallized Paper
Holographic Metallized Papermade from metallized paper has shown great potential in preventing counterfeiting, largely due to the freedom of packagers to engrave unique holographic designs. A popular application for metallized paper is in gift wrapping paper. Growing demand for specialty papers for a range of packaging applications is helping the metallized paper market grow.

Metallized paper market: competitive landscape and significant growth
Companies interested in gaining a significant share of the metallized paper market are forging partnerships with companies in the coatings and packaging industries. In addition, these companies are planning to aggressively expand their production capacities to broaden their product portfolio. Eurofoil, a European manufacturer of metallized liners, announced an acquisition agreement with AR Metallizing at the end of 2019, and it will be rebranded under the latter name.

Most companies are inclined to adopt new labeling and packaging technologies that offer new performance attributes to metallized papers. This is expanding the avenues of the metallized paper market.

Metallized Paper Market: Growth Drivers
The role of metallized paper in global anti-counterfeiting activities is rising rapidly, thus stimulating the prospects of the metallized paper market. In recent years, a new avenue has come from the demand for specialty packaging papers in the brewing and spirits industry. Packaging companies focusing on the metallized paper market opportunity are increasingly emphasizing gloss and anti-counterfeiting properties to attract customers.

Significant demand for metallized paper is expected to come from the pharmaceutical industry, where Metallized Paper Suppliers are increasingly using metallized paper as a step in the fight against counterfeiting activities.

The use of metallized paper packaging in confectionery products is also driving the market. Advances in coating manufacturing technology are driving the popularity of metallized paper packaging. The glossy characteristics of this paper are attracting end users. Growing demand for decorative paper, gift paper, and metallized paper packaging is contributing to the growth of the metallized paper market.

Metallized Paper Market: Regional Outlook
On the regional front, the metallized paper market has a considerable source of revenue in Asia Pacific, especially in Southeast Asia. North America and Europe are also promising markets. Growth in these markets is gaining momentum against the backdrop of an expanding array of specialty papers for packaging and labeling applications. In addition, Asian countries see high potential for demand due to the rising prospects for metallized papers in anti-counterfeiting applications in the beverage and confectionery industries.