As temperatures rise and summer arrives, refreshing drinks tend to help cool some people down, and you may be wondering how bottle labels are made.

Custom bottle labels must fit a variety of bottle sizes, shapes and materials. In addition, such labels need to adhere to a variety of surfaces, including glass, semi-extruded materials and rigid plastics. Custom wet-strength labels will also be subject to conditions that challenge their integrity, such as immersion in water and ice. In addition, there are many different printing processes available.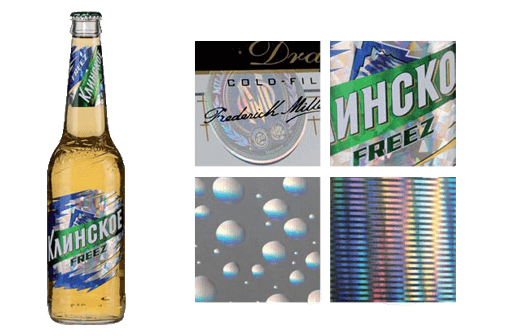 List the ingredients of alcoholic beverages
The list of ingredients for custom labels used on beer, wine and spirits bottles is varied and detailed. They must provide information such as brand name, alcohol content, bottling date, year, importer name and proof level. The new Nutrition Facts label for packaged food and beverage products has been finalized by the Food and Drug Administration (FDA). It reflects the latest scientific information and is designed to help consumers make more informed purchasing choices.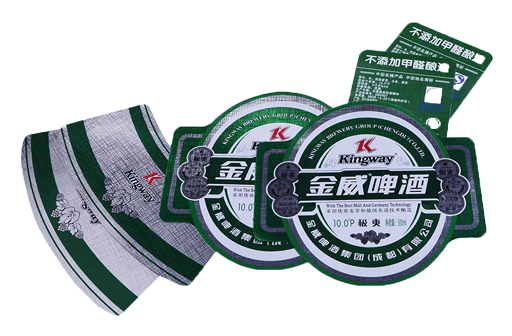 Designing custom bottle labels
For design best practices, at first, only color and imagery may be considered. Also, the size and shape of the label is important.
For example, consider whether to wrap the beer bottle label all the way from front to back, or have it face forward. Wrap-around labels, which are typically larger and rectangular in shape, are an excellent choice for displaying complex designs or presenting a large amount of information, which may include everything from a list of ingredients to a company's backstory.
Bottle Label Shapes
Alcoholic beverage bottle label shapes offer a wide variety of options and can range from traditional to modern. Please note that shape often affects the consumer's perception of the product being sold.
Squares and rectangles are the most standard and traditional method and are the choice many consumers are used to and comfortable with.
Round labels are used less frequently than square labels, making them the ultimate choice for drawing attention to a truly unique and original product with an unusual flavor or product history.
The triangular shape is both sharp and balanced, conveying a modern, dynamic and energetic look.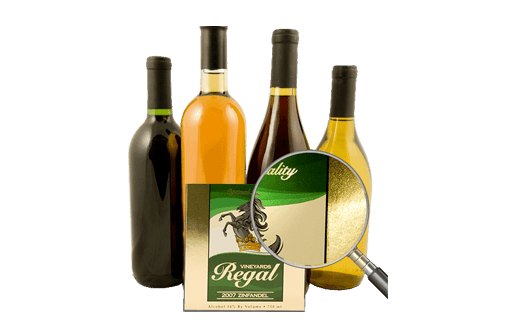 Which materials to use for labels
When choosing the right material for a custom wine bottle label, the most common paper label choice is white, smooth and non-glossy.
Other options include papers with a rough, porous surface that range from white to off-white to eggshell to brown, such as kraft paper. The porosity of these papers causes ink to bleed through to produce a soft effect.
Since wine bottles are often exposed to considerable moisture and water, "wet strength" is also an important characteristic. Beer is also a traditional cold drink. Since it will be refrigerated or kept on ice, moisture-resistant labels are often recommended. For example, matte finishes on beer bottle labels may be a very durable option.
What printing process to use
Flexographic printing is a letterpress printing process similar to letterpress, using a flexible printing plate made of rubber or soft plastic. While more expensive, it offers tighter control and repeatability.
Another good option is high-definition digital printing, which produces crisp text and clear, color-rich images.
Laser printing focuses the laser beam directly onto the photoconductor drum through a lens and works much faster than digital inkjet printing.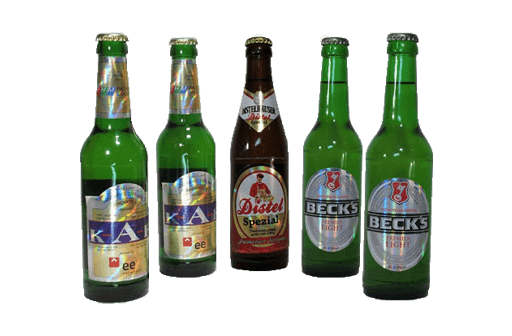 Use custom bottle labels to market products
The most important use of custom bottle labels for the purpose of moving products and/or promoting businesses, services and ideas is as a marketing and branding tool.
In this case, marketing products, organizations and events is very simple. For example, personalized labels with original photos and text can make events especially unique and memorable. In addition, designing these labeled products as giveaways makes them a great marketing and branding tool for promotional events.
Now, are you ready to contact YF to develop your custom bottle labels?